Detail of broken stained glass window.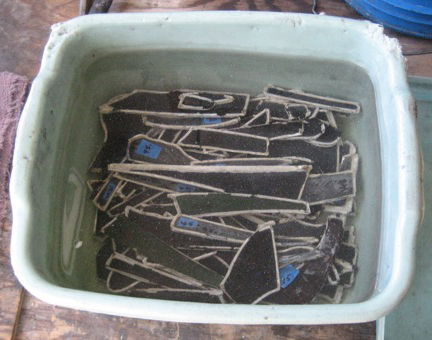 After disassembly the stained glass pieces were soaked to soften the old putty.
EXQUISTE STAINED GLASS WINDOW RESTORED AT ST. AMBROSE, WEST HOLLYWOOD, CALIFORNIA DECENBER 12, 2015

In April of 2015, Ancient Arts Stained Glass (www.AncientArtsStainedGlass.com) owner, Mark Schoem received a phone call from the Archdiocese of Los Angeles Construction Department. We were asked to begin the process of the restoration of a stained glass window at St. Ambrose Church, West Hollywood, CA (www.stambroseweho.org).

St. Ambrose church (http://en.wikipedia.org/wiki/Ambrose) was dedicated in 1924. The present building was constructed in 1950. Magnificent stained glass windows throughout the church are the creation of Harry Clarke Studios, Dublin, Ireland. (http://en.wikipedia.org/wiki/Harry_Clarke).

The window we were asked to restore was a small window, 16" x 30", in the cry room (https://en.wikipedia.org/wiki/Cry_room). The window shows an immigrant girl of the 1920's or 1930's protected by a Guardian Angel (https://en.wikipedia.org/wiki/Guardian_angel). Above the figures is a propeller airplane; below are a railroad train and an ocean liner.

The Harry Clarke artistic touch is on full display with the vivid colors, the diapering (decorating with a repeated pattern) of the painted details and particularly in the multicolored glory of the angel's robe. The jacket of the young girl and the ship were plated (two layers of glass) for added depth and detail.

We met with Deacon Michael Morgan at the Church. The Deacon did not know if there had been an accident or an incident of vandalism. The work was authorized and the window was removed on May 30th, 2015.

Replacement pieces were prepared for the broken pieces. During the process of re-leading, it was also discovered that at some time prior to this incident, there must have been some previous weakening or damage to the panel as an area on the upper left angel's wing was being held in place by black silicone, an inadequate method of stained glass repair.

The stained glass panel, a true work of art was re-installed in its proper place on August the 8th.
Broken stained glass window, St. Ambrose, West Hollywood.
Restored and Re-Installed, August 8th, 2015.